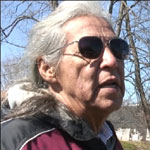 (Wilson, Michigan) – A northern Michigan American Indian elder believes something is amiss in nature and is encouraging tribal communities to join with non-tribal partners for pollinator protection and the restoration of native plants.
A crisis is imminent.
Honeybees and native pollinators such as bumblebees are declining at alarming rates as the native plants that sustain them are decreasing due to habitat loss via non-native invasive plants.
"It is your responsibility – as well as ours – to be tenders of the garden," said Earl Meshigaud, Hannahville Potawatomi Indian Community Tribal Council Member and Culture Department Director. "That's what we were put here for – to take care of God's Creation."
"If we do that – then we will always have what we need," Meshigaud said. "And over the years we saw a lot of people neglect that – and as a result we have lost a lot of these things that we have come to rely upon – they are no longer here."
2012 Zaagkii Project: "Be tenders of the garden" – Hannahville Potawatomi Elder Earl Meshigaud
Meshigaud spoke to representatives of 5 tribal communities during an April 2012 pollinator protection and native plants restoration workshop hosted by the Hannahville Indian Community and part of an ongoing effort to educate the public and address the disappearance of pollinators and indigenous plants.
At the end of the all-day workshop, several native tree saplings were planted on the Hannahville Reservation by volunteers and students from the Hannahville Indian School (Nah Tah Wahsh PSA). The students especially enjoyed planting the apple tree saplings.
Funded by the U.S. Forest Service and others, the Zaagkii Wings and Seeds Project has partnered with Northern Michigan and Wisconsin tribes for the past 5 years to protect pollinators like bees and butterflies – and to restore lands with native plants such as wild rice, Evening primrose (Oenothera biennis), Black-eyed Susan (Rudbeckia hirta) and bee balm (Monarda fistulosa), according to Jan Schultz, botanist for the United States Forest Service/Eastern Region (USFS) in Milwaukee.
Benchmarks include projects on reservations and non-tribal lands.
In 2010, the USFS-funded Zaagkii Wings and Seeds project assisted in the building of a native plants greenhouse at the Keweenaw Bay Indian Community (KBIC) along Lake Superior – and in recent years native and non-native youth have worked together to build butterfly and bee houses – plus raise awareness in the community about the death of one-third of the bee population, Schultz said.
Despite a historical mistrust that Native Americans have for the federal government, Potawatomi elder Earl Meshigaud says in the area of environmental protection and restoration tribes should be open to working with the U.S. Forest Service and others who are offering good-willed assistance.
"I would like to have you people urge your leadership in your community – where ever you go – to accept some of the ways that the people are trying to restore some of these things back – especially in the plant world back into our communities," he said cupping his hands as if to hold a plant.
"I want to say this because it is very important, especially to the Indian communities today," Meshigaud said. "Indian people themselves over the years went through a period where we lost a lot of our land."
"We were very protective of our land," Earl Meshigaud said. "So we always go back … upon what they often refer to as sovereign rights."
"We want to protect our land – and in the process of doing that we don't want anyone else to mess around with that," he said.
"Unfortunately what has happened is that we are missing out on a lot of opportunities," Meshigaud said in reference to some tribal reluctance to participate in projects being offered by the USFS.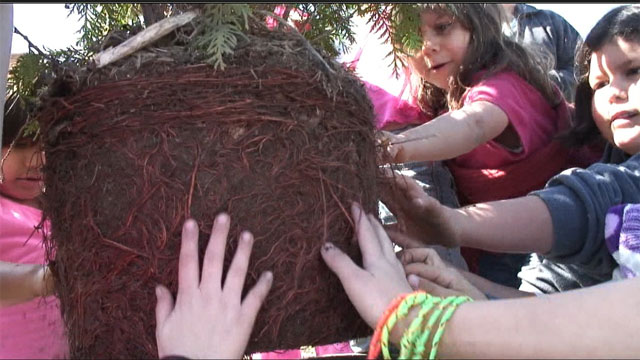 The Zaagkii Project is coordinated by the Cedar Tree Institute, a nonprofit organization that provides services and initiates projects in the areas of mental health, religion and the environment.
Zaagkii Project sponsors include Keweenaw Bay Indian Community (KBIC), the United States Forest Service (USFS), Marquette County Juvenile Court, U.P. Children's Museum and the Northern Michigan University Center for Native American Studies (NMU CNAS).
Tribal communities and groups represented at the workshop included the Hannahville Indian Community, Keweenaw Bay Indian Community (KBIC), Sault Ste. Marie Band of Chippewa Indians, Lac Vieux Desert Band of Lake Superior Chippewa Indians, Menominee Indian Tribe of Wisconsin (MITW), and the Center for Native American Studies at Northern Michigan University.
The Hannahville Indian Community meeting was the third in a series of Zaagkii Project/U.S. Forest Service tribal workshops in northern Michigan. Prior workshops were held in July 2012 at KBIC and July 2011 at Presque Isle Park in Marquette.
The fourth workshop will be on Thursday, Sept. 13 and Friday, Sept., 14, 2012 at Lac Vieux Desert (LVD) near Watersmeet, Michigan. The LVD workshop will include pollinator protection and native plants restoration information with a focus on wild rice, among other topics.