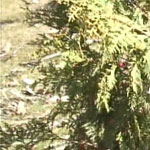 Representatives of 5 tribal communities attended an April 2012 pollinator protection and native plants restoration workshop at the Hannahville Indian Community.
Hannahville Indian School students planted apple and cedar saplings as part of the U.S. Forest Service-funded Zaagkii Wings and Seeds Project in Michigan's Upper Peninsula.
Coordinated by the nonprofit Cedar Tree Institute, the Zaagkii Wings and Seeds Project partners with Northern Michigan and Wisconsin tribes to restore native plants and protect pollinators like bees and butterflies.
2012 Zaagkii Project: U.S. Forest Service, Native Americans guard pollinators, restore native plants
2012 Zaagkii Project USFS, tribes share tech, protect native plants/pollinators: Bumblebees/Monarchs