Fighting Invasive Weeds in Midwest/Restoring Native Plants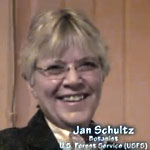 USFS Eastern Region Botanist Jan Schultz was the keynote speaker on Tues., Oct. 16, 2012 at the Rapid Response Invasive Plant Intervention Team of the U.P.! (RIPP IT UP!) Third Annual Northern Great Lakes Conference named "A United Front against Invasive Species" in Marquette.
The presentation titled "An Overview of Just How Far We've Come in the Battle against Invasive Species" was watched by many USFS employees and several groups assisting in the fight to stop invasive non-native weeds that are choking out all forms of wildlife.
Schultz is the USFS Non-native Invasive Species and Special Forest Products Program Leader stationed in Milwaukee, WI.
U.S. Forest Service Botanist Jan Schultz: Fighting Invasive Weeds in Midwest/Restoring Native Plants