LVD, KBIC join partnerships
By Charlie Otto Rasmussen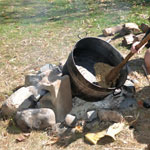 Watersmeet, Mich. – Scott Herron sees a bright future for native plants – one illuminated by the reddish, orange glow of firelight.
"Most invasive plants can't handle fire," said Herron, a Ferris State University ethnobotanist. "Native plants, however, have adapted to fire. We can restore some of these plant communities on a larger scale than what I see out there now."
An organizer and featured speaker at the fourth Kinomaage Workshop, Herron said most Michigan restoration projects appear in the form of modest rain gardens, featuring just a few plants. Additional restoration is occurring on reclaimed brown fields – abandoned industrial sites – in places like Detroit. Land managers, he said, might go further, drawing from the well of traditional ecological knowledge to realize broader landscape restoration.
"If we use a holistic Anishinaabe model, we can move beyond single species restoration," he said. That means the strategic application of fire on larger chunks of land, generating new growth across entire plant communities. "We've got firekeepers all across Anishinaabe Country. We can work together to revive some of those seed banks."
Herron said it's not enough to rely on government programs like the Great Lakes Restoration Initiative to pay for restoration projects; organization and funding on the local level is essential to pool all available resources to help the ecosystems. Like reconstructing elements of native plant communities, interconnecting people is vital to restoration success.
To that end the Kinomaage (teachings from the earth) program is a working model. Launched by the non-profit Cedar Tree Institute, Kinomaage partners include the Lac Vieux Desert (LVD) Band, U.S. Forest Service and individuals from tribal communities across Upper Michigan.
"We exist in between organizations," said Jon Magnuson, Cedar Tree Institute (CTI) Director. "We're a catalyst, a trigger for an emerging vision: to return the caretaker legacy of Native American communities across North America."
That legacy is on display at Rice Bay on Lake Lac Vieux Desert where many of the three-dozen Kinomaage participants witnessed the full richness of manoomin harvesting, processing and reseeding—all done by hand. The LVD Band, Great Lakes Indian Fish & Wildlife Commission and other partners are 10 years into efforts to rejuvenate ancient manoomin (wild rice) beds on the lake's north shore. With assistance from Herron, on Kinomaage's second day LVD's Roger LaBine detailed the life cycle of manoomin and its journey from a seed in the lake bottom to a table-ready food.
Herron poignantly ran down a list of native species required to both harvest and process manoomin: rice knockers made from giizhik (cedar), mashkiigwaatig (tamarack) and aagimaak (black ash) push poles, nooshkaachinaagan (winnowing trays) utilizing wiigwaas (birch bark) and wiigob (basswood).
"We need all of these plants to do this one activity," Herron said, adding that native plant stewardship is fundamentally "ethnobotanical driven—not just for the sake of having a restored ecosystem."
Giizhik and pollinators
Through the Cedar Tree effort, The Manitou Project volunteers planted 10,000 northern white cedar seedlings throughout the Upper Peninsula in early summer 2012. LVD Band members placed 1,000 of those trees into western UP soil and also assisted in other areas including the site of the Duck Lake fire, which torched more than 21,000 acres.
The CTI also developed Zaagkii, the Wings & Seeds Project, with the Keweenaw Bay Indian Community and other Upper Michigan collaborators. Supporting the priceless work of insects—which are responsible for pollinating a great many wild plants—is the core of Zaagkii. Insects make contact with pollen dust as they visit plants to feed on nectar. As they move along, insects distribute pollen to plant reproductive systems across the landscape.
In Upper Michigan, the program has keyed in on two conspicuous pollinators: monarch butterflies and bees. Volunteers, tribal youth, and additional kids from the Marquette County Juvenile Courts program constructed and installed 36 bee shelters and 18 butterfly houses. The structures provide protection from severe weather. "Monarch butterflies are very fragile," CTI's Magnuson said. "They ride the thermal winds on incredible migrations across the continent, but access to adequate shelter is critical for them."
Jan Schultz, the principal US Forest Service Zaagkii partner, frames the work ahead in pragmatic terms. "Every third bite of food (Americans consume) comes from pollination," said Schultz, Region 9's top botanist. "It's jaw dropping."
She said restoring native communities is a game of keeping as many "parts" as possible. That includes inventorying and preserving the original plants found on the landscape. Some plants represent the sole food source for native pollinators. For monarch butterflies, milkweed is a crucial host plant. Without nutrition from the leaves of milkweed, monarch larvae cannot develop into a butterfly.
"Keeping the pieces is huge," Schultz said. The Sault Tribe is slated to host the next Kinomaage workshop in April 2013.