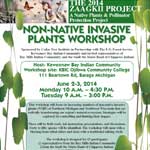 June 2-3, 2014
Sponsored by Cedar Tree Institute in Partnership with The U.S. Forest Service Keweenaw Bay Indian Community and invited representatives of Bay Mills Indian Community and the Sault Ste Marie Band of Chippewa Indians
Host:
Keweenaw Bay Indian Community
Workshop site:
KBIC Ojibwa Community College 111 Beartown Rd, Baraga Michigan
Monday, June 2 from 10 A.M. – 4:30 P.M.
Tuesday, June 3 from 9 A.M. – 3:00 P.M.
This workshop will focus on increasing numbers of non-native invasive plants (NNIP) of Northern Michigan and Northwest Wisconsin that are radically transforming our region's natural ecosystem. Strategies will be explored for controlling and limiting their impact. There will be field-work, lab instruction, presentations, and discussions. Forty to fifty species will be identified. The workshop will open with a blessing from tribal elders and close with a traditional talking circle.
The workshop is designed for 15 participants (2 representatives from the Bay Mills Indian Community
2 from the Sault Ste Marie Band of Chippewa Indians & 10 KBIC tribal members)
Lodging, if requested, will be provided for two nights, June 1 and 2nd (Ojibwa Casino Hotel)
Breakfast, lunch and dinner are included on Monday, breakfast and lunch on Tuesday.
GUEST PRESENTERS AND FACILITATORS INCLUDE:
Jan Schultz, Chief Botanist for the Eastern Region of the U.S. Forest Service and
Evelyn Ravindran, KBIC Natural Resources Department, KBIC tribal elders,
Jon Magnuson, the Cedar Tree Institute & Tom Biron, Sault Ste Marie Band of Chippewa Indians
TO REGISTER CONTACT:
Evelyn Ravindran at 906-353-54757, Ext #11
E-mail: eravindran@kbic-nsn.gov or Tom Biron at E-mail: birontho@gmail.com