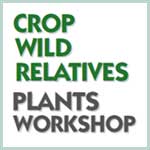 August 5-6, 2014
Sponsored by Cedar Tree Institute in Partnership with The U.S. Forest Service, Agricultural Research Service (ARS), and the Keweenaw Bay Indian Community and invited guests from Native American Communities and the Eastern Region National Forests.
Host:
Keweenaw Bay Indian Community
Workshop site:
KBIC Ojibwa Community College 111 Beartown Rd, Baraga Michigan
Tuesday, August 5 from 9 A.M. – 4:30 P.M.
Wednesday, August 6 from 9 A.M. – 3:00 P.M.
This workshop focuses on the emerging challenge of conserving Crop Wild Relatives, those native plants that are closely related to the important food crops that we are inextricably linked to today.
Treaty lands and National Forests are important locations that harbor these essential native plants as we are challenged by climate changes and food security. This workshop will focus more specifically on the USDA/FS and ARS strategy and collection protocols for the complementary conservation (in situ and ex situ) of our two native cranberry species – Large Fruited and Small Fruit Cranberry. Cranberry serves as our "pilot" project in Crop Wild Relatives conservation.
THIS WORKSHOP IS DESIGNED FOR 20 PARTICIPANTS WITH SPECIAL INVITED REPRESENTATIVES FROM THE KEWEENAW BAY INDIAN COMMUNITY, BAY MILLS INDIAN COMMUNITY, HANNAHVILLE INDIAN COMMUNITY, LAC VIEUX DESERT BAND OF LAKE SUPERIOR CHIPPEWA INDIANS, AND THE SAULT STE MARIE TRIBE OF CHIPPEWA INDIANS.
All tribal representatives will be provided lodging, if requested, on Monday evening August 4th and Tuesday August 5th. Meals will be provided for tribal participants and a community meal will be hosted by KBIC on Tuesday evening, August 5th.
GUEST INSTRUCTORS INCLUDE:
Jan Schultz, Botany Program Leader, Eastern Region, USFS
Scott Herron, ethnobotanist (Annishinaabe), Patti Vitt, Chicago Botanical Garden
Karen Williams, Agricultural Research Service, USDA
TO REGISTER CONTACT:
Contact Tom Biron (Cedar Tree Institute) at birontho@gmail.com
or Evelyn Ravindran (KBIC) at eravindran@kbic-nsn.gov